The wide pants are the fashionable alternative to slim and skinny. These retro pants, directly inspired by the 1940s, are endlessly available. Advice and shopping to adopt it right away and never let go.
On the ramps, in the streets, in the shelves of stores; Wide pants are replacing the inevitable slim. In any case, that's what you might think. Because yes, whether short, long, flare or palazzo, wide pants are everywhere.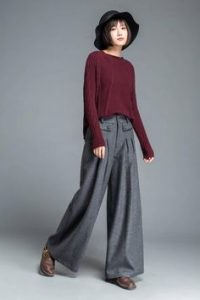 Culottes style
This season; culottes-style women pants online have made a comeback. Iconic pants of the 20s, cool piece par excellence, it is, you will understand ultra trendy. How to recognize it in stores? It is, quite simply, extremely oversize and cropped at the ankles. That is to say, halfway between too-short pants and very long Bermuda shorts. In short, these are the ideal wide leg pants for everyday life.
Palazzo style
Palazzo pants are certainly the most chic of wide pants. Fluid from the waist to the ankles and often quite long, it accompanies your movements in style. In addition to being ultra-comfortable, these XXL pants adapt to all body types and can be worn with almost everything. Choose this type of pants as soon as the days are milder because its vaporous style is less suitable for chilly people when the temperatures are negative. In addition, it is ultra-glamorous for the evenings.
Carrot pants style
Your third fashion option if you want to adopt the wide leg pants is the carrot version. High waist, wide at the hips, and fluid at the legs, they are the ideal pants to structure a silhouette. Extremely classy, ​​it is perfect for an office outfit without fashion faux pas.
How to wear wide pants?
Wide pants can be scary. Yes, with its volumes and its fluidity, you don't always know how to tame it. But yet it is quite simple. You just need to know how to play with volumes. We tell you how depending on the occasion.
In the office
Opt for cropped culotte pants or wide carrot pants. For the top, go for a white or sky blue shirt, a patterned blouse or a fitted sweater with a high collar for the chic side. On the feet, choose heeled moccasins or a pair of derbies. It will be the most stylish look of the open-space operation.
In the evening
Now is the time to unsheathe your palazzo. You can team it with a lace bodysuit or a tulle top. What about feet? A pair of pumps to have a taller look; And to break up the style, don't hesitate to finish your look with an oversized denim jacket or a leather biker jacket.
In Week-end
Are you going for the weekend and dreaming of a 100% cocooning look? Opt for the comfort of wide pants associated with an oversized chunky knit sweater or mixed with a checked shirt. What are you wearing at your feet? Nothing is better than a nice pair of white sneakers or a pair of flat ankle boots.
You are sure not to let go of your wide pants!
For more details, please visit: holaamor.org