The shirt has been around since the Middle Ages and was mainly used to hide the body.
It was worn next to the skin like an undergarment.
Today, the shirt is considered an elegant garment, whether worn by a man or a woman.
It can be worn for any occasion and in any season, so why not?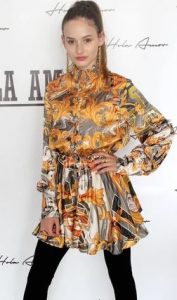 How to choose a shirt?
Sections:
– The fitted shirt, open on two or three buttons, goes perfectly with jeans and a blazer.
– The straight shirt: with a flexible collar, it will give a casual look. Tuck one side into your jeans and the rest deceptively neglected. In summer, consider tying it at the waist and rolling up the sleeves to reveal bracelets.
– The fluid shirt: supple and airy, it is a staple in a feminine wardrobe. You can slip it into pants to make it blouse.
The details:
– The collar is the detail that you will see at first glance since it is close to the face. A rigid collar will make for a strict look while a soft collar will give a relaxed effect. Choose the shape that will highlight you: for tight and wide faces, collars with a small opening are more suitable while long faces will wear cutaway (with a wide opening)
– The shoulders: the seam must fall at the level of the shoulder break
– The armpits: there should not be excess tissue
Morphological advice:
. Do you have a generous breast? To avoid having the 'button ready to explode' effect, pay attention to your size choice. Prefer to take the size above to be more comfortable.
. Do you have your arms dangling? If your shirts tend to hug your arms, the cotton and elastane blend will contour your curves and provide you with comfort
. Is your neck a bit strong and / or do you have a double chin? Prefer a fluid shirt, open to reveal your neckline, the delicacy and fluidity will make you appear thinner
. Do you have a small chest and curvy hips? A beautiful fitted shirt that you will wear with the first open buttons will highlight you, jeans or a high waist skirt will make the perfect look
Can't assume your forms? Wear the shirt you feel best in, what matters is how comfortable you are under all circumstances!
How do I create my look?
– Chic & minimal: the white shirt goes very well with raw jeans and heels which creates a simple but worked silhouette, you can accessorize with a jewel and a colored handbag for a more fashionable side, or to conversely, a blazer for a strict style.
– Working girl: the shirt with a pencil skirt and ankle boots will make a classic style perfect for going to the office
– Classic: the shirt under a waistcoat that reveals delicate cuffs and pants, the basics that work very well together
– Casual: the fluid shirts for women UAE with a long skirt for a casual outfit that will not go unnoticed if you wear glitter ballerinas
– Assumed: the white cotton shirt worn in high-waist jeans and the carelessly detached hair will create a shapely silhouette.
– Trend: a wool sweater that is superimposed on the shirt and reveals the collar
For more details, please visit: holaamor.org