Pimples are bad things in themselves. But then, when they leave unsightly scars in their wake that are difficult to remove … You can quickly get discouraged. The healing phase can indeed be very long, especially since we are not all equal from this point of view. Personally, I have pale skin that doesn't scar very quickly. So I had to rely on local care to give him a little help.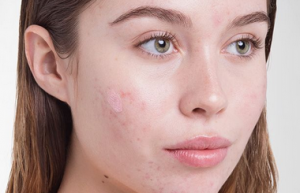 With this article, I present to you the tips and natural treatments that allowed me to make my scars disappear faster. This is not an exhaustive list, just a few ideas you can draw from!
The different types of acne scars
Overall, scars are classified into two categories:
Pigmentary scars: They are the most common. These are the little colored marks left by the pimple when it disappears. At first, they are more of a strong color (red or even purplish) then fade over time and become rather pink or brownish.
Atrophic or hypertrophic scars: These are "bump" or "hollow" scars, which tend to be permanent. For the treatment of this type of scar, the advice of a dermatologist is recommended. It may in particular evoke the laser or a slightly beefy peel.
I will only talk about pigmentary scars here: they are the ones that respond best to natural care and that concern the majority of us.
Treat acne scars from the first days
Tips and tricks to get rid of acne scars with natural care
I do not use the same treatments, depending on whether the scar is very recent (a few days) or older (several weeks to several months). For the first few days, I mostly use calming actives, aimed at limiting redness and inflammation. Of course, the sooner you catch the problem, the better the chances of quick success. Here are my little favorites:
    Aloe vera gel:
Its healing, anti-inflammatory, antiseptic and moisturizing properties are well established. Usually very well tolerated by the skin, a small grain is deposited on the scar and then massaged until penetration. It is absolutely non-oily and therefore suitable for acne-prone skin. There is often a small "tightening" effect after application. If this bothers you, it can be mixed with a little vegetable oil. Be careful, however, to choose good quality aloe vera and to be careful about its conservation. I had issues with some brands and couldn't keep some of my bottles for long.
    Honey (manuka):
So he's my absolute favorite. It is an absolutely remarkable wound healing and antibacterial. I even use it regularly on the deep wounds of my patients. It is particularly formidable on acne scars. It should be left on the scar (or even the entire face) as long as possible, at least twice a day for a few days. Manuka honey is the one with the most virtues, but it has the drawback of being very expensive and not readily available (outside the Internet). For small budgets, know that thyme or lavender honeys are also very effective.
    Lavender essential oil:
I really like this essential oil which is relatively well tolerated and which is a very good ally in cases of acne. Either we put a drop, pure, directly on the scar. Either mix it in a little vegetable oil or aloe vera and massage the areas to be treated. Be careful, as with any essential oil, be careful: test a small area of ​​the body before applying it as is on the face.
    Helichrysum essential oil (immortelle):
This is a very valuable and very powerful essential oil, which has anti-inflammatory and anti-coagulant properties. When the scar is still very red, it does wonders to soothe it. I use it in particular in my anti-acne roll-on!
    Egyptian Magic cream:
A real Swiss Army knife, this cream that has not left me for years is great for calming all irritations. I wear a mask from time to time, which I leave on overnight. When you wake up, the skin is visibly fresher and soothed.
    The Antipodes Aura Manuka mask:
This one too, I've been talking about for years (little bit of old by the way!) But I love it, I find it very good for treating both active acne and recent scars. In addition to a soothing routine and a few well-chosen active ingredients, it brings a real plus.
Aloe vera and rose gel (Hévéa)
Manuka Honey (Nelson Honey)
Helichrysum essential oil from Italy (Hévéa)
Egyptian Magic Balm
Aura Manuka Mask (Antipodes)
The scars, a few weeks later
More tricks to get rid of acne scars
Of course, a few days or even weeks after the appearance of a scar, it tends to fade. Except that it can be very gradual and in some cases, you even have to wait for months! Unfortunately, I know something about it: even a year after some pimples, my skin still remembers them. During this phase, it is necessary to turn to different care: exfoliants and lighteners will be the most useful.
    Fruit acids:
These are derived from natural products and work by removing the layer of dead cells on the surface of the skin. They are therefore excellent chemical exfoliators, which are unmatched for reviving the complexion's radiance and renewing the skin. My skin loves it! These are the types of treatments that work the best for me. The good news is, you can use their properties without breaking the bank. A simple lemon peel, performed every day, works very well. Be careful though: you must always be very gradual in using fruit acids (otherwise, beware of tingling or burning sensations) and you must protect yourself from the sun at the same time.
    Vitamin C:
It is also very useful for brightening the skin and fading scars. It is also a good ally in the fight against oxidative stress. The advantage is that it is usually well tolerated by the skin and therefore suitable for sensitive skin. The skincare I use Tea tree face wash. It has been a great help in blurring my scars.
Wild rose oil: This exceptional oil is often compared to retinal (natural version), since it has the same properties. It is indeed a hydrating, anti-aging, healing and restorative oil. It also helps to counter the harmful effects of the sun and pollution. The best oil I know of is from Auragano. In my opinion, it is important to choose an oil of very good quality, to take full advantage of its benefits.