The office blouse
Now that we have laid the groundwork, Hola Amor invite you to discover 12 work look ideas for women.
The blouses for women UAE is a must-have for your office outfit, it adapts to any outfit and any style. Here it is completed with classic straight pants in the 2 photos. The mixture is simple, but works very well.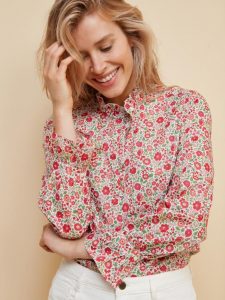 The office top
For tops, bet everything on the quality of the materials! On the left, we have a pretty sleeveless fluid top with a little lace. The lace here is not "too much", it is precisely measured and the top is not particularly casual. This type of top pairs perfectly with a tailored jacket. Then on the right, we have a white round neck top with belt at the waist. While this top has a belt and that makes it a little quirky, it's not too eccentric. This top remains a top with clean lines, it is very elegant.
Classic office pants
On the left, we have the very classic straight 7/8 pants. He always matches in office attire. It can be associated with any pair of shoes: pumps, moccasins, derbies, boots, ankle boots … On the right, we have a look that I particularly appreciate, because it is a little out of the ordinary. We have an outfit very elegant, but also very stylish which is perfect for the office. We have a tight high neck sweater, 7/8 flared pants, a pair of leather boots and a leather bag. This look is really cool for the office and even for everyday life.
The office skirt
The skirt will easily dress up any top. We can see on the left, a pretty summery office look. We have a white midi wrap skirt associated with an elegant fluid camisole. On the right, we are more on an autumn, winter look with this beige wool sweater associated with this short black straight skirt. The skirt is short, but the model is elegant, so if you complement your outfit with a pair of black opaque tights, it will be suitable for the office.
Office jeans
Contrary to what one might think, jeans are quite acceptable in some companies … As long as they are paired well! Opt for jeans with a little spandex for added comfort all day long. Also be sure to choose the right height at the waist.
Sometimes super high-waist jeans could compress your stomach all day, if you are mostly sitting. A mid-rise or normal waist will often be more comfortable at work. For the cut of the jeans, make according to your morphology of course and remain as sober as possible. A pretty boot cut, straight or slim jeans in black or dark blue will often be the best choice.
The office dress
The dress is naturally part of this selection of suitable clothing for work. Comfortable, elegant, it has everything to please. On the left, we have a very pretty navy blue straight dress completed with a pendant necklace which adds a plus to the outfit.
The dress is a bit short, but elegant, so in my opinion suitable for the job. In summer or spring, I invite you to associate this dress with a pair of shoes with small heels like moccasins. With a short dress (mid-thigh), avoid opting for high heels at the office. That's why I offer a pair of moccasins to complete this look and a pair of black tights if needed.
On the right, we have a slightly longer straight dress (slightly above the knees) belted at the waist. It is also a very elegant model which here is associated with a pair of colorful pumps. For sunny days, this is a perfect outfit for work. In winter, you can go for the same style of dress, but prefer long sleeves instead. Then don't hesitate to complete your look with a good pair of winter tights *, as well as a pair of boots or ankle boots and a warm and elegant woolen coat.
Work wear and body type
Obviously, for your work outfit to be truly elegant and rewarding for you, it must be perfectly suited to your body type. You can wear the prettiest office outfit, if it doesn't fit you, it won't work for you. Considering your figure and valuing it should always be a top priority when dressing.
Hope this article has you more and has given you a little more insight into how to dress at work. It's not that complicated after all. You just need to adapt to your company's dress codes and make sure you have neat work clothes that suit your body type.
For more details, please visit: holaamor.org