Damascus steel Knives Information
The knives of the Damascus Steel Knives series are made with the famous steel Aogami (Blue Paper Steel). We created these knives with one purpose: to offer you the ultimate cutting edge.
Fine, sharpened and made to last!
For these knives, we chose very hard steel (62-65 HRC) with a very fine structure. The blades are finely sharpened. This makes Damascus steel Kitchen knives that are made for you to use for years without losing their original edge.
NB: Steel Blue Steel is not stainless!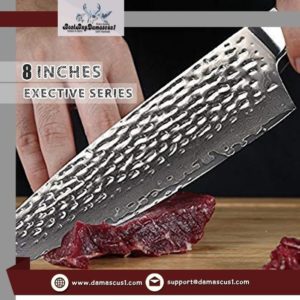 Damascus steel Kitchen Knives Usage Tips:
If you follow these tips for use, you can use the Damascus Steel Kitchen knife for years.
Use this knife to cut your food and not to chop or snatch (meat for example). Indeed, the blade is too thin and you could damage or even break the blade.
Do not use this knife to cut frozen food. This exerts a pressure force too great for the finely sharpened blade.
Use a board made of wood or plastic and not glass, ceramic or natural stone. These are harder materials than steel blade and you could damage your knife.
Never put the knife in the dishwasher. Blue Paper Steel is not a stainless steel and you could damage its wooden handle.
After use, wash them by hand with water and some washing-up liquid and wipe them off immediately. If you let them dry on a drip tray, rust stains will appear. Once dry, you can optionally put a little vegetable oil on the blade to grease.
Carefully store your Kitchen knives to prevent them from getting damaged.
During the first uses, the knife will discolor superficially and leave a little black on your food. This is a normal phenomenon because the steel is carbon and is not stainless. The deposits are not dangerous to health and will disappear when the patina is created.
In order to keep the sharpness of your knives, we advise you to use water stones for sharpening. Start by using a coarse grain stone (eg # 220) to keep the shape of the blade, then run the knife on a finer grain stone (# 1000 for example).
Guarantee:
Our Damascus steel Kitchen knives are guaranteed 25 years against defects in workmanship and materials from the date of purchase.
These knives are not stainless and a superficial discoloration at the beginning of use is quite normal.
The Damascus steel knife cannot be put in the dishwasher and the handle must be kept dry. The blade must be washed and dried after each use.