The Future Of Google Analytics:
In your business Google Analytics provide about your SEO services in Lahore and user detail bounce rate of the user.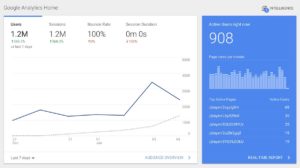 Click Here : Digital Marketing Lahore
The new property, called App + Web, introduces unified reports for properties that track user behavior on web-based assets (global tag) and application (Firebase). At face value, this is simply a standard incremental update designed to respond to a common concern of a small, but vocal subset of the user base of more than ten million platforms. However, within these twelve paragraphs, Google also subtly dismantles many of the fundamental concepts that have underpinned our shared understanding of what the website's analysis is, and in doing so may have shown its hand to the leadership Google's Future Web Analytics.
The App + Web property represents a radical shift away from the legacy of more than ten years of web tracking that Google launched after acquiring and renaming the Dechin tracking platform in 2005. Gone were the concepts of sessions and page views, replaced instead by an extensible event-based model inherited from the aforementioned Firebase. In fact, much of the new property architecture rises directly from Firebase, Google's recommended offering for app-based tracking, which in turn was acquired and absorbed by Google in 2014.
For those unfamiliar with Firebase's approach to reporting, many of the family reports introduced along with the various transitions from the web tracking library: Universal Analytics, Google Analytics 360 and, more recently, Global Tag. "All Pages" that column of content performance reports is not seen for example, nor any of the reports "All Traffic", replaced instead by a single drag-and-drop interface used to create custom reports on the March, a powerful drag feature built from the company aimed at Google Analytics 360, and the like, dare we say, how Work space reports are integrated into Adobe Analytics.
Advanced Analytics Report Builder is not the only unique feature of GA360 that is given away to the general public. In a surprise decision, the first signs indicate that Google intends to provide free App + Web Property integration with its Big Query platform targeting big data that enables advanced unexampled data analysis, font interpolation powerful visualization through the native integration of Data Studio. A feature that is often cited as one of the key factors to upgrade to Google's paid marketing platform.
So at what cost does all this energy come? Well, it should be noted that the new property type is still in open beta, which means that any of these feature inclusions may be subject to change or withdrawal between now and the final version. In addition, some features, such as solid ecommerce reports, are not yet supported in the new data schema. Finally, and perhaps most critically, the fundamentally different change in the data schema restricts the new property type from being an update available for existing web-based properties, which means you'll need to create a new property without any arrangement for historical drag tracking data.
Still, we're thrilled to start exploring the capabilities of what some hope will be Google's de facto offering for future tracking and analysis, web, app or otherwise. We are currently in the process of implementing new internal deployments to run in parallel with our traditional Google Analytics configurations, so beware of future posts about the technical hurdles of doing so . As always if you have any questions, or want to discuss the analytical needs for your business, feel free to reach out.
For more information, we recommend reading the excellent introductory post by Digital Media Trend.