ITIL training providers are available to help organizations mitigate incidents within an organization. The training process involves several steps. Training providers help organizations understand how to improve the efficiency of their organizations. Before enrolling in a training program, users must understand what ITIL is, the benefits of ITIL and what to expect from training. Armed with this information, organizations can select the best training providers.
What is Information Technology Library (ITIL)?
ITIL is the practice of aligning IT services within a business. The set of practices is a subset of IT service management (ITSM). ITIL helps businesses identify procedures and tasks which must be accomplished to establish a minimum competency level. Once the baseline is established, organizations can develop plans and measurements. The baseline is the starting point to gauge improvement and compliance within an organization.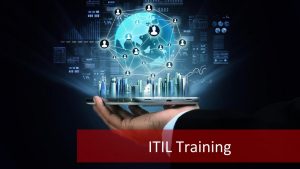 Benefits of ITIL
ITIL identifies core businesses practices to help organizations bring about change, growth and transformation. ITIL course best practices ensure organizations deliver services according to plan and ensure organizations meet business goals. The identification of customer needs and monitoring is important in the ITIL process.
Companies that choose to adopt ITIL can expect improvement in overall IT services. Costs are typically reduced also. Productivity increases through the efficient use of skills and experience. Customer satisfaction is achieved through increased productivity, efficiency and empathy.
What is Incident Management?
Incident management describes an event which may interrupt a business or cause reduction in the quality of service a business can offer. Most incidents originate at the service desk. Agents and support groups will address the business interruption. Status of the incident will be changed as it moves through the channels for resolution. The incident will be monitored continually until the incident is resolved.
Major incidents will be resolved before minor incidents and in the shortest time possible. The incident management process should include an accurate recording of the incident events, the plan for resolution of incidents, the restoration of service, event recording required for incident resolution and reports to prevent recurring incidents.
What to Expect from ITIL Training and Providers?
Organizations such as NASA, Disney, HSBC bank and UK's National Health Service (NHS) have been trained in ITIL best practices. IBM, HP and British Telecom also support ITIL best practices. Many companies engage in ITIL training to obtain certification.
Organizations considering ITIL foundation should select an Accredited Training Organisation (ATO). The Examination Institute should also be licensed. In most instances, only ATOs are licensed to provide training. ATOs obtain accreditation through examination institutes in most instances. To become accredited, training providers must go through a rigorous assessment process. The course materials will also be examined to assure the training is adequate.
Examination Institutes must also be accredited. This entity is accredited by the APM Group or the Cabinet Office's official Accreditor. If an organization offers training without being approved by an Examinaton Institute, the organization may be found in breach of Intellectual Property law.
Consider How ITIL Training and Providers Can Help
Search online to find the best training providers available. Find an accredited provider to ensure successful implementation in organizations when training is complete. Consult with a representative to learn more about ITIL training.
digital marketing agency in lahore providing Best SEO, SMM and Web Development Course Training ; Services in Pakistan. We are providing Best Digital Marketing Solutions in Lahore